Giacca impermeabile vintage Bela Ranger


Bela Ranger Vintage Short Textile Motorcycle Jacket
The Bela Ranger is a complete windbreaker at all levels. Equipped with removable double lining, ventilation and protection. It allows you to go on a motorbike on a daily basis or to travel while maintaining a discreet and comfortable street look but with all the qualities of the most strident. Its linings, one thermal and another one waterproof allow you to enjoy the jacket in any climate, whether rainy, cold or hot. Where the liners dismantled and the ventilation open that let the air flow through the inside of the jacket. In addition to its two front pockets, it has an inner one on the flap of the jacket, accessible without having to open the linings. Their fists close with Velcro and have a small bellows in the area of the wrist that allows you to widen the sleeve and then narrow it without having to close a zipper. It has two zippers on the hips to allow to widen the jacket when you sit on your bike and prevent the garment to rise.
Material and technical information:
Made of 600D polyester and treated to give a worn look
Fixed soft inner lining.
Removable thermal lining with pocket for mobile.
Removable waterproof and breathable lining
Neck tacked in tactile for more softness.
Two front pockets for hands
Two air inlets in the front and two outlets in the back.
Stretch panels on the shoulders for easy movement and adjustment.
Adjustable waist with Velcro
CE approved protections on shoulders, elbows and back
Neck closure with Velcro.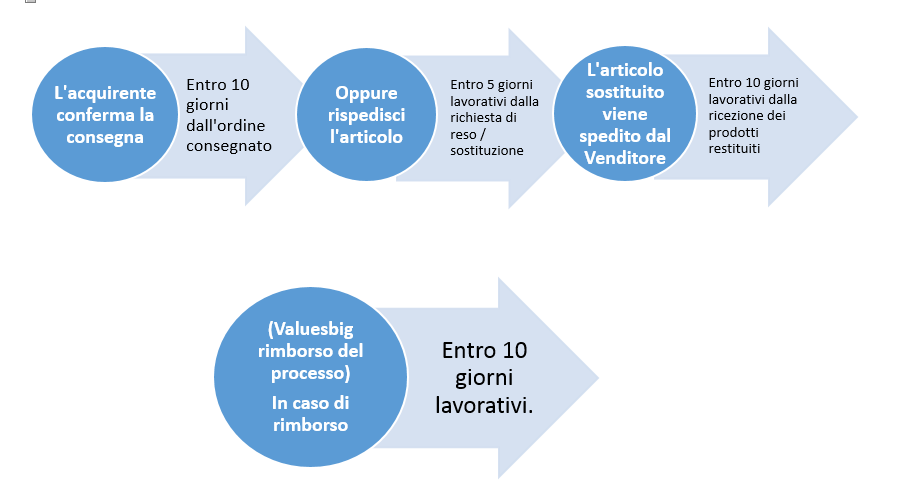 Valuesbig crede in una politica di restituzione ben definita che consente all'acquirente di restituire la merce o addirittura di cancellare l'ordine nei seguenti scenari;
Prodotto sostanzialmente diverso da quello che hai ordinato.
Articoli danneggiati durante il trasporto.
Mancavano articoli o accessori nella spedizione.
Spedizione ricevuta in ritardo (non si applica nel caso in cui sia l'acquirente che il venditore abbiano accettato)
(La ricevuta di consegna indica che l'articolo è stato ricevuto con almeno 7 giorni di ritardo dalla data di consegna prevista.
Nel caso in cui si applichi una delle condizioni di cui sopra, le spese di spedizione sono sempre a carico del Venditore. Valuesbig Marketplace invierà per e-mail l'etichetta di spedizione all'Acquirente.
In tutti gli altri casi in cui sia l'acquirente che il venditore concordano reciprocamente, vale a dire che l'acquirente cambia idea dopo l'acquisto, le spese di spedizione per la restituzione sono a carico dell'acquirente. Tuttavia, alcuni dei nostri bestseller hanno una politica ancora più gentile di resi gratuiti. Gli acquirenti si prega di controllare la politica di restituzione del venditore specifico per saperne di più.
Restituisci un oggetto
Prima di iniziare un reso, si prega di controllare i dettagli come l'indirizzo di spedizione per la restituzione e l'imballaggio ecc. E i dettagli della nostra politica di restituzione visualizzati nella pagina del prodotto.
Per restituire un articolo per un rimborso o una sostituzione:
Vai a Impostazioni account e seleziona l'elemento che devi restituire.
Seleziona restituisci questo elemento e spiega il motivo del reso. Il tuo feedback migliorerà la qualità e il servizio del venditore e, a sua volta, porterà anche efficienza sul nostro mercato.
Se si desidera documentare la condizione dell'articolo restituito in modo da poter gestire in seguito eventuali controversie, è possibile caricare foto di articoli che si desidera restituire come prova. Abbiamo aggiunto utili funzionalità nella nostra sezione di ritorno per l'aggiunta di foto.
È necessario chiudere l'ordine facendo clic su Conferma ricevuta nella richiesta di conferma consegna entro 10 giorni dalla data di spedizione oppure Aprire Restituzione e rimborsi entro questo periodo. È necessario restituire l'articolo entro 10 giorni lavorativi dalla richiesta di reso / sostituzione.
Nel caso in cui si verifichi un problema con il tuo ordine come indicato sopra, Valuesbig ti invierà un'etichetta di spedizione per la restituzione gratuita nell'e-mail registrata. Quindi continua a controllare la tua email.
Nel caso in cui il venditore offra resi / sostituzioni gratuiti, puoi chiedergli l'autorizzazione a prenotare la spedizione sul suo account di corriere O a fornire un'etichetta di spedizione per la restituzione gratuita del venditore. È possibile trovare un'etichetta di spedizione per la restituzione gratuita all'interno della spedizione originale in base alla Politica di restituzione del venditore.
Puoi anche elaborare una soluzione direttamente con il venditore per restituire un articolo. Ciò aiuterà il venditore a mantenere la valutazione del venditore.
Secondo la tua richiesta, il venditore spedisce la sostituzione entro 10 giorni lavorativi dalla ricezione dell'articolo restituito in buone condizioni o richiede a Valuesbig di elaborare il rimborso.
Valuesbig elaborerà tutte le richieste di rimborso entro 5 giorni lavorativi.
Se stai restituendo un articolo perché non corrisponde alla descrizione o è sostanzialmente diverso da quello che hai ordinato, la Garanzia di rimborso di Valuesbig potrebbe aiutarti. Per maggiori informazioni, visita la nostra sezione
Nel caso in cui si ottenga una decisione favorevole nella richiesta di rimborso, la spedizione di ritorno sarà sempre a carico del venditore.
Puoi sempre chiederci di presentare una richiesta di rimborso o di presentare una richiesta di rimborso, nel caso in cui il Venditore non fornisca la soluzione entro 10 giorni dall'apertura della controversia.
Accerteremo il tuo reclamo e chiederemo al venditore di fornire qualsiasi argomento di difesa. Tuttavia, Valuesbig prenderebbe una decisione entro 14 giorni da tale escalation del reclamo e elaborerebbe i rimborsi (se presenti) entro una settimana dalla sua decisione.
Si prega di notare che l'elaborazione dei rimborsi sulla carta di credito potrebbe richiedere fino a 30 giorni.
Nota per i venditori: l'etichetta di spedizione che Valuesbig Marketplace invierà all'Acquirente, si trova sempre sull'account Venditore.
Cancellation, return and size change policy Can I return a product? Most products purchased at maximo-moto.com and at Máximo-Moto stores can be returned, provided they retain the original packaging and are in perfect condition . Including accessories, documentation and original packaging, otherwise the good will suffer depreciation. In accordance with the exceptions to the Right of Withdrawal regulated in RDL 1/2007, the return of those customized products will not be accepted. You will only be responsible for the decrease in value of the assets resulting from a manipulation other than that necessary to establish the nature, characteristics and operation of the goods. Once the merchandise is received in our warehouse, and after checking the status of it, the amount will be refunded, according to the payment method made by the customer, except in cash, which will be refunded by bank transfer and, In any case, within a period not exceeding 14 calendar days from the receipt of the returned merchandise. The direct cost of the return of the good will be borne by the customer as collected in the LGCU. Can I change a product? Most of the products purchased at maximum-moto.com can be changed, as long as they keep the original packaging and are in perfect condition . There are some exceptions and certain deadlines to make the return. In accordance with the exceptions to the Right of Withdrawal regulated in RDL 1/2007, the return of those customized products will not be accepted. You will only be responsible for the decrease in value of the assets resulting from a manipulation other than that necessary to establish the nature, characteristics and operation of the goods. Once the merchandise is received in our warehouse, and after checking the status of it, the change will proceed. The direct cost of the return of the good will be borne by the customer as collected in the LGCU. FIRST FREE CHANGE IN PENINSULA AND BALEARIC The first change will be totally free for purchases made in the Peninsula and the Balearic Islands that exceed 50 euros. It will not be valid for the Canary Islands, Ceuta, Melilla, Azores and Madeira. Only one change process per order will be accepted. What are the terms of return or exchange of a product? The return deadlines that are detailed below will start counting from the delivery of the order: 30 calendar days: for all products on our website 15 calendar days: for products with defect or tare. In purchases made from December 1 to January 7, changes and returns may be made until February 15. The product must be unused, unassembled and in perfect condition. Including accessories, documentation and original packaging, otherwise the good will suffer depreciation. In accordance with the exceptions to the Right of Withdrawal regulated in RDL 1/2007, the return of those customized products will not be accepted. How do I make the return or exchange? Contact our Customer Service +34 961 213 961 or
[email protected]
where they will inform you of how to start the change process or personally, at the Máximo-Moto stores in Valencia or Zaragoza. Once the merchandise is received in our warehouse, and after checking the status of it, the amount or exchange will be refunded. For returns, the direct cost of the return of the good will be borne by the customer as collected in the LGCU Expenses arising from transportation, and which will not be reimbursed, will be subject to the following conditions: - The return of the order in a Maximum-Moto Shop in Valencia and Zaragoza does not generate any expenses. - Less than 50 euros, only the amount of the items will be refunded. - Over 50 euros, an amount of 6 euros will be subtracted in the peninsula and the Balearic Islands. For Europe, consult customer service. The refund, in this case, will be made through transfer or PayPal. What if I receive the order and the product has a defect or tare? First of all you must take some proof photos of the defect and send them to
[email protected]
or by WhatsApp +34 602 222 355 along with your contact information. Once the product is analyzed and the defect is checked, Máximo-Moto will take care of the postage corresponding to the recovery of the defective item and the shipment of the correct item. The maximum period to request the exchange or return of the defective item is 15 business days from the date of receipt of the order. And if the product does not match the order placed? Máximo-Moto.com will take care of all expenses. Both the collection of the wrong product and the delivery costs of the correct order. You will not carry out any reshipment of merchandise until the product subject to return or exchange in our warehouses has been verified, as well as the condition of the packaging and its accessories. OUR RETURN SHIPPING ADDRESS MAXIMO MOTO VALENCIA Telephne: +34 961 21 39 61 Address: Calle Linares No.21