Bela Rocket Mix Kangaroo Man 2PC Leather Suit (Black/Yellow Fluorescent)
Bela Rocket Mix Kangaroo Man 2 Piece Motorcycle Leather Suit
Add versatility to your motorcycle gear without losing functionality and protection. Get Bela Rocket Mix Kangaroo Man motorcycle leather divisible suit exclusively designed for all those riders who wants freedom of riding with easy wearing. A BELA suit, made of high quality water repellent cowhide leather with Kangaroo inserts. This suit is the optimum of protection and safety with its flexible fit and breathability. The Bela Rocket Mix Kangaroo Man 2-piece suit ergonomically designed for maximum comforts and so you enjoy every moment of your ride while on two wheels.
Material:
Composition:
Outer material: 75% Cowhide leather 25% Kangaroo Leather (inserts 92% PA 8% ELASTAN)
Lining: 100% Polyester
Technical Information:
Fixed mesh lining with air mesh at calf to offer better comfort
TPU external protection parts on shoulder and elbow
CE approved internal protectors at shoulders, elbows, hips and knees
Aerodynamic hump for spinal cord protection
Partly perforated leather at front, Arms and on thigh areas to improve ventilation
Stretch leather panels at back armhole, knees, back waist for comfortable & flexible movement
Neoprene at collar, cuff & hem to reduce thickness and give greater comfort
Double layer leather reinforcement at elbow, shoulder and seat
Velcro inside front panel to facilitate a chest protector if needed
Wrist zip closure on cuff to offer better convenience
Reflective at arm area for better night vision.
Knee sliders for more protection.
High-strength connecting zip.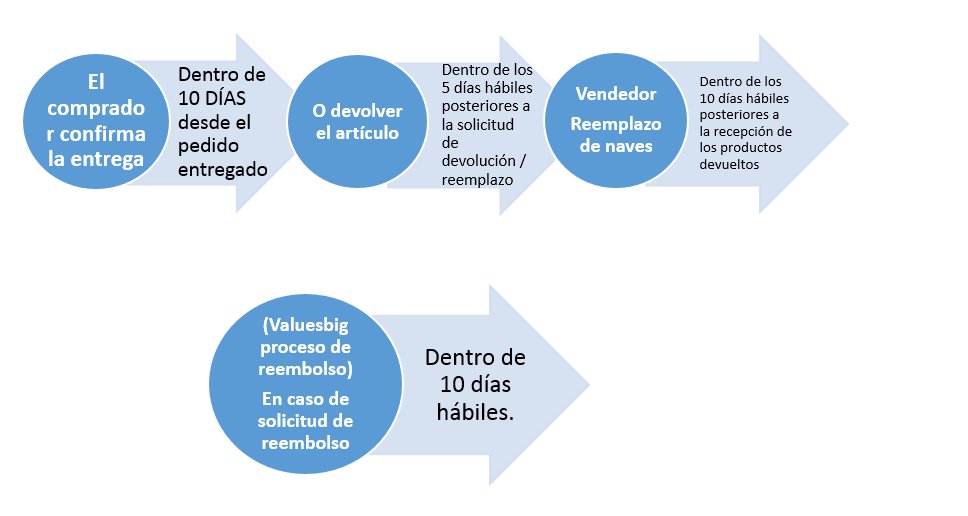 Valuesbig cree en una política de devoluciones bien definida que permite al comprador devolver bienes o incluso cancelar el pedido en los siguientes escenarios;
• Producto materialmente diferente de lo que ordenó.
• Artículo (s) dañado (s) durante el tránsito.
• En el envío faltaban artículos o accesorios.
• Envío recibido tarde (no se aplica en caso de que tanto el comprador como el vendedor lo hayan aceptado)
o (Recibo de entrega que muestra que el artículo ha sido recibido al menos 7 días tarde de la fecha de entrega esperada.
En caso de que se aplique una de las condiciones anteriores, los gastos de envío son siempre a cargo del Vendedor. Valuesbig Marketplace enviará por correo electrónico la etiqueta de envío al Comprador.
En todos los demás casos en que los compradores y el vendedor acuerdan mutuamente, es decir, el comprador cambia de opinión después de la compra, los gastos de envío de devolución corren a cargo del comprador. Sin embargo, algunos de nuestros mejores vendedores tienen una política aún más amable de devoluciones gratuitas. Los compradores deben consultar la Política de devolución específica del vendedor para saber más.
Devolver un artículo
Antes de comenzar una devolución, verifique los detalles, como la dirección de envío de devolución y el embalaje, etc., y los detalles de nuestra Política de devolución que se muestran en la página del producto.
Para devolver un artículo para un reembolso o reemplazo:
Vaya a Configuración de la cuenta y seleccione el elemento que necesita devolver.
Seleccione devolver este artículo y narre el motivo de la devolución. Sus comentarios mejorarán la calidad y el servicio del vendedor y, a su vez, también brindarán eficiencia en nuestro mercado.
Si desea documentar la condición del artículo devuelto para que pueda manejar cualquier disputa más adelante, puede cargar fotos de los artículos que desea devolver como evidencia. Hemos agregado funciones útiles en nuestra sección de devolución para agregar fotos.
Debe cerrar el pedido haciendo clic en Confirmar recibo en la Solicitud de confirmación de entrega dentro de los 10 días a partir de la fecha de envío O Abrir Devolución y reembolsos dentro de este período. Debe devolver el artículo dentro de los 10 días hábiles de su solicitud de devolución / reemplazo.
En caso de que haya un problema con su pedido como se mencionó anteriormente, Valuesbig le enviará una etiqueta de envío de devolución gratuita en su correo electrónico registrado. Así que sigue revisando tu correo electrónico.
En caso de que el vendedor ofrezca devoluciones / reemplazos gratuitos, puede solicitarle autorización para reservar el envío en su cuenta de mensajería O para proporcionarle al vendedor una etiqueta de envío de devolución gratuita. Puede encontrar una etiqueta de envío de devolución gratuita dentro de su envío original según la Política de devolución del vendedor.
También puede encontrar una solución directamente con el vendedor para devolver un artículo. Esto ayudará al vendedor a mantener su calificación de vendedor.
Según su solicitud, el vendedor envía el reemplazo dentro de los 10 días hábiles posteriores a la recepción del artículo devuelto en buen estado o solicita a Valuesbig que procese el reembolso.
Valuesbig procesará todas las solicitudes de reembolso dentro de los 5 días hábiles.
Si devuelve un artículo porque no coincide con la descripción o es materialmente diferente de lo que ordenó, la Garantía de devolución de dinero de Valuesbig puede ayudarlo en su lugar. Para más información, visite nuestra sección.
En caso de que obtenga una decisión favorable en el Reclamo de garantía de devolución de dinero, el envío de devolución siempre correrá a cargo del vendedor.
Siempre puede solicitarnos que intervengamos y presentar el reclamo de garantía de devolución de dinero de Lodge, en caso de que el vendedor no proporcione la solución dentro de los 10 días posteriores a la disputa de apertura.
Verificaremos su reclamo y le pediremos al vendedor que proporcione cualquier argumento de defensa. Sin embargo, Valuesbig tomaría una decisión dentro de los 14 días de dicha escalada de reclamo y procesará los reembolsos (si corresponde) dentro de una semana de su decisión.
Tenga en cuenta que los reembolsos a la tarjeta de crédito pueden demorar hasta 30 días en procesarse.
Nota para los vendedores: La etiqueta de envío que Valuesbig Marketplace enviará al comprador, siempre está en la cuenta del vendedor.
Cancellation, return and size change policy Can I return a product? Most products purchased at maximo-moto.com and at Máximo-Moto stores can be returned, provided they retain the original packaging and are in perfect condition . Including accessories, documentation and original packaging, otherwise the good will suffer depreciation. In accordance with the exceptions to the Right of Withdrawal regulated in RDL 1/2007, the return of those customized products will not be accepted. You will only be responsible for the decrease in value of the assets resulting from a manipulation other than that necessary to establish the nature, characteristics and operation of the goods. Once the merchandise is received in our warehouse, and after checking the status of it, the amount will be refunded, according to the payment method made by the customer, except in cash, which will be refunded by bank transfer and, In any case, within a period not exceeding 14 calendar days from the receipt of the returned merchandise. The direct cost of the return of the good will be borne by the customer as collected in the LGCU. Can I change a product? Most of the products purchased at maximum-moto.com can be changed, as long as they keep the original packaging and are in perfect condition . There are some exceptions and certain deadlines to make the return. In accordance with the exceptions to the Right of Withdrawal regulated in RDL 1/2007, the return of those customized products will not be accepted. You will only be responsible for the decrease in value of the assets resulting from a manipulation other than that necessary to establish the nature, characteristics and operation of the goods. Once the merchandise is received in our warehouse, and after checking the status of it, the change will proceed. The direct cost of the return of the good will be borne by the customer as collected in the LGCU. FIRST FREE CHANGE IN PENINSULA AND BALEARIC The first change will be totally free for purchases made in the Peninsula and the Balearic Islands that exceed 50 euros. It will not be valid for the Canary Islands, Ceuta, Melilla, Azores and Madeira. Only one change process per order will be accepted. What are the terms of return or exchange of a product? The return deadlines that are detailed below will start counting from the delivery of the order: 30 calendar days: for all products on our website 15 calendar days: for products with defect or tare. In purchases made from December 1 to January 7, changes and returns may be made until February 15. The product must be unused, unassembled and in perfect condition. Including accessories, documentation and original packaging, otherwise the good will suffer depreciation. In accordance with the exceptions to the Right of Withdrawal regulated in RDL 1/2007, the return of those customized products will not be accepted. How do I make the return or exchange? Contact our Customer Service +34 961 213 961 or
[email protected]
where they will inform you of how to start the change process or personally, at the Máximo-Moto stores in Valencia or Zaragoza. Once the merchandise is received in our warehouse, and after checking the status of it, the amount or exchange will be refunded. For returns, the direct cost of the return of the good will be borne by the customer as collected in the LGCU Expenses arising from transportation, and which will not be reimbursed, will be subject to the following conditions: - The return of the order in a Maximum-Moto Shop in Valencia and Zaragoza does not generate any expenses. - Less than 50 euros, only the amount of the items will be refunded. - Over 50 euros, an amount of 6 euros will be subtracted in the peninsula and the Balearic Islands. For Europe, consult customer service. The refund, in this case, will be made through transfer or PayPal. What if I receive the order and the product has a defect or tare? First of all you must take some proof photos of the defect and send them to
[email protected]
or by WhatsApp +34 602 222 355 along with your contact information. Once the product is analyzed and the defect is checked, Máximo-Moto will take care of the postage corresponding to the recovery of the defective item and the shipment of the correct item. The maximum period to request the exchange or return of the defective item is 15 business days from the date of receipt of the order. And if the product does not match the order placed? Máximo-Moto.com will take care of all expenses. Both the collection of the wrong product and the delivery costs of the correct order. You will not carry out any reshipment of merchandise until the product subject to return or exchange in our warehouses has been verified, as well as the condition of the packaging and its accessories. OUR RETURN SHIPPING ADDRESS MAXIMO MOTO VALENCIA Telephne: +34 961 21 39 61 Address: Calle Linares No.21