PROFIRST BT-81 SHORT OFF ROAD LEATHER BOOT (BLACK)
Description:
We are manufacturing high-quality racing boots according to latest fashion needs and we are aiming to improve its quality by every passing day. We are leading manufacturer of high ankle boots, which are becoming more trendy and famous day by day. If you are looking for high quality and decent footwear but you do not wants to compromise safety, then you should choose our BT-81 high ankle touring boots.High quality leather construction and safety features on this particular boots makes it more reliable, beautiful, safer and long lasting when compare to our competitor.
Outer Material:
We generally utilizes quality material for our products to make them more trustworthy and dense. For the construction of our racing boots, we have use PVC based high-quality and real PU-coated 188-leather which is more robust. PU leather is used in the construction of this boots because it is more waterproof, easy to clean and preserve. As the outer material is according to the quality, hence our boots are more long lasting and remain consistent for a number of years.
Inner material:
To keep the boots more comfortable and adjustable,lining is used inside the boots. The inner side of boot is assembled with support lining which ensures maximum comfort and warmness too. Inside sole is equipped with plastic insole which provides maximum grasp and adjust ability.
Buckles and Straps:
When you are in hurry and wearing your boots, bootlaces can become headache that time. Our boots do not equip with bootlaces which requires extra effort and time while closing them. We cares for you, so we added buckles and straps in our boots which reduces effort and time. Buckles and straps are made of first-class plastic whose quality remains constant and remains long lasting.
Foam Padding:
When you are riding out our bike, or when you are on long adventurous tour then it is necessary you're your boots should be comfortable. If inner boot material is hard, it cause swollen and pain in the feet. We always focus on providing maximum relaxation and comfort to our customers. Therefore, we have added extra 4mm foam inside the boots to make them more contented and hence our boots proved best choice for you.
Velcro Strap:
The choice of every customer is different, hence the size, and adjustability for varied customer s also varied. To meet the need of different customers, we have added Velcro strap in our boots to span different requirements and better adjustability. The Velcro strap provides maximum elasticity and proved as a versatile choice for you.
Plastic Round Ankle Protection:
When you are riding your motorcycle out, and unfortunately had a mishap, then ankle is the key part of the foo that get injured. In order to minimize this fear, we have added ankle protection to make our ankle protected even in any misfortune. The ankle protection is made with high-quality plastic material which is more reliable and placed at both side of the foot to provide maximum safety.
Reflector:
In dark nights, you need even more security, either you are on-road or off-road. While keeping in mind this security aspect, we have added reflectors both at front and back. Reflector is assembled with high-quality macro material which provides extra visibility in dark and keeps you more safe and secure while you are riding outside of your home.
Rubber Sole:
Walking on wet surface, on snow covered streets, on oily pavement and on hills, can become more difficult and sole of the boots can cause any mishap due to slippery. To tackle with this problem, we have made sole of our boots with high-quality rubber. Rubber sole provide following advantages as compared to normal boot sole.
Excellent Insulation Capacity
Excellent Flexibility
Shock absorbance
Moisture proof
Abrasion and water resistance
Elastic Top:
In order to make our boots more adjustable and flexible, the top of the boot is embedded with elastic. The elastic is wrapped with stretchable synthetic material which not only give it stylish look and feel but also make it flexible.
Double Stitched:
Snapping of the stitching in boots make them useless and can waste your money. To tackle this problem, we double stitched our boots in key areas to make the boots more long lasting and avoid snapping of the stitching. Our boots are double stitched which means that the upper material and sole is stitched together which doubles the safety of the boots.
Waterproof:
Pro first boots are based on waterproof system. This system allows the sir to enter in but prevents the entry of the water. Hence, your foot remain dry whether you are walking on wet surface or walking out in rainy and snowy season.
Stiffener:
In order to provide maximum stability in boots, we have added stiffener in our boots. The stiffener is placed at the back heel of the boots which make it more long lasting and comfortable. Stiffener added extra grip and comfort in boots and makes them more durable.
Gear Panel:
Gear panel is placed at the upper layer of the boot which provides maximum grip on it. The gear panel is assembled with high quality rubber material which is more robust and reliable.
Shin Protection:
We take special care for our customers, so we added TPO based hard protection to protect your feet while you are off-road or riding your motorbike out. Shin protection is based on TPO hard protection and extra foam material is used to provide maximum protection and comfort too.
Stylish Looks:
Profirst not only promised to provide maximum on road safety but also focused to meet latest fashion needs. Therefore, we design our boots in latest trendy high ankle style which is in fashion nowadays. The attractive buckles, gear panel and elastic upper doubles the beauty of the boots.
Breath ability:
Profirst off-road touring boots are completely breathable. Our boots are designed in such a way that they prevent heat buildup in the boots and provide enough breath ability that keeps you comfortable during riding.
TPR Heel:
The sole of the boots plays an important role in life time of the boots. The sole, especially heel should be of high quality which doubles the reliability of the boot. The heel of our boots are based on TPR which provides good insulation capacity and flexibility. The TPR heel is more shock proof, water resistant and abrasion resistant.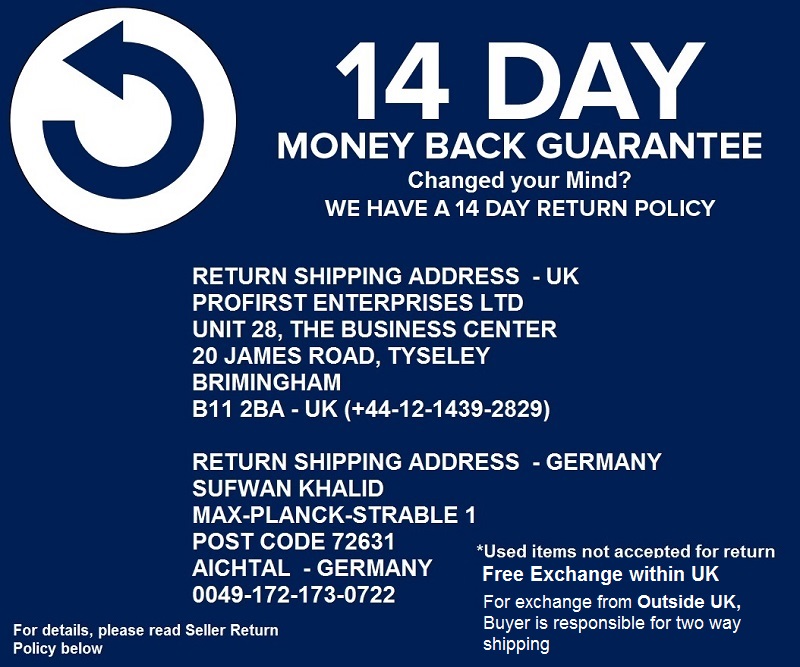 Valuesbig believes on a well defined returns policy which allows buyer to return goods or even cancell order in following scenarios;

Product materially different from what you ordered.
Item (s) damaged during transit.
Shipment was missing items or accessories.
Shipment received late (does not apply in case both buyer and seller has agreed to it)

(Delivery receipt showing that item has been received at least 7 days late from the expected delivery date.
In case one of above condition apply, shipment charges are always borne by Seller. Valuesbig Marketplace will email shipping label to Buyer.
In all other cases where buyers and seller both mutually agrees i.e Buyer changes his minds after purchase, return shipping charges are borne by the buyer. However, some of our top sellers have even more gracious policy of Free Returns. Buyers please check Specific Seller Return Policy to know more.
Return an item
Before you start a return, please check details like return shipping address and packaging etc and details of our Return Policy displayed on Product Page.
To return an item for a refund or replacement:
Go to Account Setting and select item which you need to return.
Select return this item and narrate reason for return. Your feedback will improve seller quality and service and in turn, will also bring efficiency in our marketplace.
If you want to document the condition of returned item so that you may handle any dispute later-on, you may upload photos of item (s) you would like to return as evidence. We have added useful features in our return section for adding photos.
You must either close the order by clicking Confirm Receipt in Delivery Confirmation Request within 10 days from shipment date Or Open Return and Refunds within this period. You must return the item within 10 working days of your return/replacement request.
In case there is an issue with your order as mentioned above, Valuesbig will send you free return shipping label in your registered email. So keep checking your email.
In case seller offers free returns/replacement, you can ask him for authorization to book shipment on his courier account OR to provide seller free return shipping label. You may find free return shipping label inside your original shipment based on Seller Return Policy.
You can also work out a solution directly with seller to return an item. This will help seller to maintain their seller rating.
As per your request, the seller either ships replacement within 10 Working days of receiving the returned item in good shape or requests Valuesbig to process refund.
Valuesbig will process all refund requests within 5 working days .
If you are returning an item because it did not match description or it is materially different from what you ordered, Valuesbig Money Back Guarantee may help you instead. For more information, please visit our section
In case you get a favorable decision in Money Back Guarantee Claim, return shipping will always be borne by the seller.
You can always ask us to step-in and Lodge Money Back Guarantee Claim, in case Seller does not provide solution within 10 days of opening dispute.
We would ascertain your claim and ask the seller to provide any defence arguments. However, Valuesbig would make a decision within 14 days of such claim escalation to us and would process refunds (if any) within one week of its decision.
Please note that refunds to credit card may take upto 30 days to process.
Note to Sellers: Shipping label which Valuesbig Marketplace will send to Buyer, are always on Seller account.
PLEASE NOTE:
SELLER RETURN POLICY WILL SUPERSEDE THIS POLICY IF IT OFFERS MORE GRACIOUS TERMS TO BUYER.