PROFIRST 6 PACKS CORDURA MOTORCYCLE JACKET (RED)
Descriptions:
(AVEC protections d'épaule, de coude et de dos approuvées CE - entièrement amovible)

Toutes nos vestes de moto Packs sont conçues pour répondre à la fois aux besoins de sécurité et de mode. Les vestes de motard Profirst Packs sont suffisamment polyvalentes pour couvrir plusieurs styles de conduite et le choix du motard. Nos vestes sont faites d'un matériau de haute qualité et sont capables de quatre saisons.
Matériel de haute qualité:
Les vestes Packs sont basées sur un tissu Cordura 600D de haute qualité, ce qui les rend imperméables et suffisamment durables pour vous protéger de tout incident lors de la conduite du vélo. Les épaules sont équipées de tissu mat Dobby et un matériau en micro-tissu doux est utilisé dans le col tandis que les bords du col sont en tissu néoprène.
Point d'arrêt cousu:
Pour offrir des performances durables, tous les joints sont cousus en point d'arrêt pour éviter tout accrochage. Non seulement les joints, les coins zippés sont également cousus au point d'arrêt. Nous avons pris une longueur d'avance et avons utilisé des fermetures éclair basées sur YKK qui durent à long terme.
Bouches d'aération:
En été, lorsque la chaleur se forme dans la veste, Profirst ajoute des bouches d'aération pour résoudre ce problème. Il y a deux zips d'aération à l'avant, trois zips à l'arrière pour fournir plus de confort et d'air lors de la conduite en moto.
2 x zips d'aération sur la poitrine (flux d'air)
3 x fentes d'aération au dos (flux d'air)
Panneaux réfléchissants:
Les vestes Packs sont conçues pour assurer une sécurité totale, non pas pendant la journée mais aussi dans les nuits sombres. Nos vestes sont équipées de panneaux réfléchissants La plupart du temps 12 panneaux réfléchissants Décrivez ci-dessous.
4 X panneaux avant
4 panneaux arrière
4 panneaux de manches X
Meilleur ajustement:
Les vestes Packs sont conçues en tenant compte des besoins variés des clients. Une sangle velcro est ajoutée pour fournir un ajustement polyvalent à la fois pour la taille et le poignet.
Doublure amovible:
Nos vestes sont équipées d'une doublure matelassée qui est complètement amovible, lavable et dégringolée pour être sèche. La doublure matelassée offre une chaleur supplémentaire pendant la saison hivernale et la fonction d'amovibilité nous permet également de porter cette veste en saison estivale.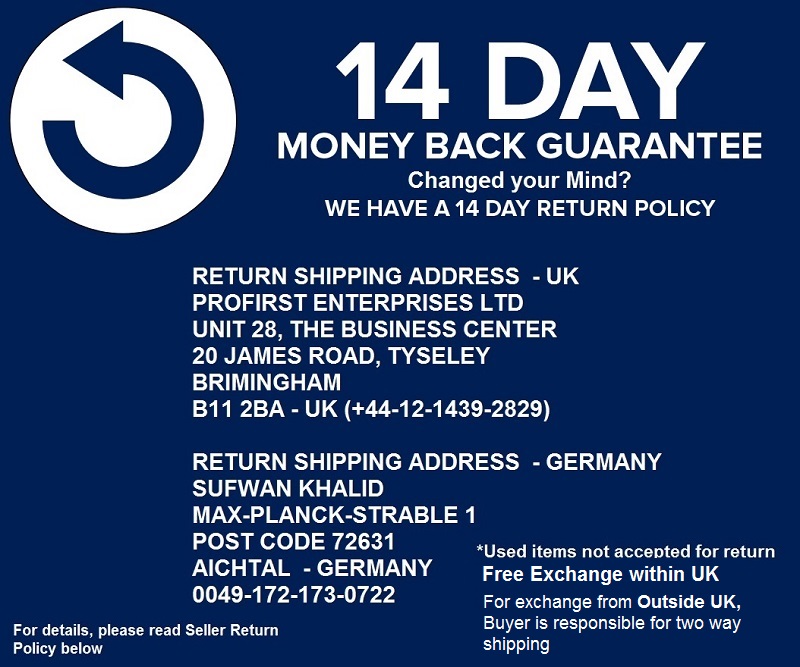 Valuesbig believes on a well defined returns policy which allows buyer to return goods or even cancell order in following scenarios;

Product materially different from what you ordered.
Item (s) damaged during transit.
Shipment was missing items or accessories.
Shipment received late (does not apply in case both buyer and seller has agreed to it)

(Delivery receipt showing that item has been received at least 7 days late from the expected delivery date.
In case one of above condition apply, shipment charges are always borne by Seller. Valuesbig Marketplace will email shipping label to Buyer.
In all other cases where buyers and seller both mutually agrees i.e Buyer changes his minds after purchase, return shipping charges are borne by the buyer. However, some of our top sellers have even more gracious policy of Free Returns. Buyers please check Specific Seller Return Policy to know more.
Return an item
Before you start a return, please check details like return shipping address and packaging etc and details of our Return Policy displayed on Product Page.
To return an item for a refund or replacement:
Go to Account Setting and select item which you need to return.
Select return this item and narrate reason for return. Your feedback will improve seller quality and service and in turn, will also bring efficiency in our marketplace.
If you want to document the condition of returned item so that you may handle any dispute later-on, you may upload photos of item (s) you would like to return as evidence. We have added useful features in our return section for adding photos.
You must either close the order by clicking Confirm Receipt in Delivery Confirmation Request within 10 days from shipment date Or Open Return and Refunds within this period. You must return the item within 10 working days of your return/replacement request.
In case there is an issue with your order as mentioned above, Valuesbig will send you free return shipping label in your registered email. So keep checking your email.
In case seller offers free returns/replacement, you can ask him for authorization to book shipment on his courier account OR to provide seller free return shipping label. You may find free return shipping label inside your original shipment based on Seller Return Policy.
You can also work out a solution directly with seller to return an item. This will help seller to maintain their seller rating.
As per your request, the seller either ships replacement within 10 Working days of receiving the returned item in good shape or requests Valuesbig to process refund.
Valuesbig will process all refund requests within 5 working days .
If you are returning an item because it did not match description or it is materially different from what you ordered, Valuesbig Money Back Guarantee may help you instead. For more information, please visit our section
In case you get a favorable decision in Money Back Guarantee Claim, return shipping will always be borne by the seller.
You can always ask us to step-in and Lodge Money Back Guarantee Claim, in case Seller does not provide solution within 10 days of opening dispute.
We would ascertain your claim and ask the seller to provide any defence arguments. However, Valuesbig would make a decision within 14 days of such claim escalation to us and would process refunds (if any) within one week of its decision.
Please note that refunds to credit card may take upto 30 days to process.
Note to Sellers: Shipping label which Valuesbig Marketplace will send to Buyer, are always on Seller account.
PLEASE NOTE:
SELLER RETURN POLICY WILL SUPERSEDE THIS POLICY IF IT OFFERS MORE GRACIOUS TERMS TO BUYER.