Money Back Guarantee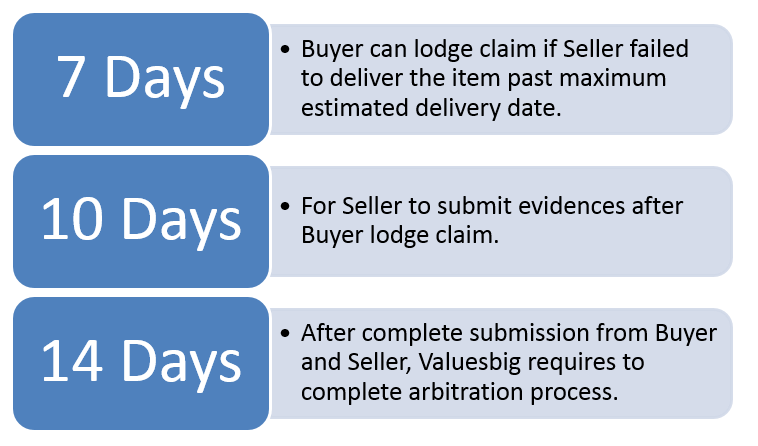 At Valuesbig, protection of Valued Customers' interest is Central. Valuesbig Money Back Guarantee gives you the ability to protect your funds in case you are not satisfied with the product you ordered.
How does it work?
Before you escalate claim to Valuesbig, You must lodge and Settle a refund or replace claim with the Seller. In case no settlement reaches, you should lodge your claim to us.
How to Lodge Money Back Guarantee Claim
The first step in the process is to go to My Account, Returns and Refunds and click Returns Request.
Please note
User can request a refund only for completed order, so always check order status before you start return/refund request.
In most of the cases, if seller agrees to make a full refund, return shipping charges will be borne by the buyer. However, some Sellers may bear return shipping charges and will email you return shipping labels.
Both Buyer and Seller may agree on a partial refund where buyer usually retains the product.
Buyer can file a Money Back Guarantee claim when all of the following applies:
1. Buyer has contacted the seller through Your Account at Buyer Central.
2. Buyer has waited three business days for a response from seller.
3. Buyer request meets one of our Money Back Guarantee conditions below.
The seller failed to deliver the item by 7 days past the maximum estimated delivery date and both you and the seller has failed to negotiate revised date of shipment.

The item you received was damaged, defective, or materially different from the item description described on the product detail page.

The seller agreed that they'd refund you, and they either haven't refunded you at all or refunded you leaser amount.
Most common Examples when buyer can lodge claim
You bought Rugby Ball but got Football.

You received a used item while you had ordered a new one.

You purchased 2 items but only got 1.

You receive Expired Products.

Seller did not delivered items on the buyer address given by Valuesbig system.

You got the item without accessories which were included in your order.

The item was damaged in transit; the item is missing major parts (that the seller didn't disclose).
Most common Examples when buyer cannot lodge claim
If the seller has shipped an item strictly as per item description but you're just not happy with it.

If you fail to mark Delivery Confirmation and open a dispute within 10 days of shipment.

If you refuse the parcel.

Your return does not have tracking information and seller does not receive returned goods.

Items damaged during pick-up or shipping or not delivered when the buyer arranges pick-up or shipping of the item (for instance, the buyer arranges freight).

Your buyer rating is negative (i.e. you have lodged false claim in the past).
What documents are required in arbitration process;
From Buyer
Digital images of received items including its packaging, accessories and damaged parts (if any)

In case items are expired, images clearly showing expiry date.

In case color is different, digital high resolution images of product received.
From Seller
Within 10 days after Buyer lodge claim, As much evidences as possible including Proof of delivery i.e. Scanned copy of tracking no. and tracking information (in case buyer claims that Goods Are Not received. We recommend submitting buyer signature confirmation as proof in most cases but specifically in case where shipment value is USD 100 and more.
How your claim is settled
Valuesbig requires 14 working days after complete submission of evidences from Buyer and Seller to complete arbitration process.

Through a full refund (the price you had actually paid). In this case, you are most likely to return the item in case the item was delivered.

Through a partial refund which is agreed upon both by seller and purchaser.

Through Valuesbig Gift Card.
How Claims can be avoided
By ensuring highest product quality and customer service standards.

We recommend seller to remain in contact with buyer throughout the transaction until goods are satisfactorily delivered.

When dispute arises, we recommend both seller and buyer to work diligently to arrive at a solution.

We recommend sellers to display high resolution product images in order to avoid any confusion at buyer end like product not as describe or color mis-match.
We encourage providing us as much information as possible in order to ascertain your claim. Evidences may include all as mentioned above as well as your email communication through Valuesbig system with the Seller.
Please forward all such claims to us at [email protected],com
Please note that refunds to credit card may take upto 30 days to process.
As an arbitrator, decision of Valuesbig would be final and binding for both parties.
Note to Seller: Seller has to arrange refunds to Valuesbig within 15 days if he has already been paid and refund has been settled through Valuesbig funds.